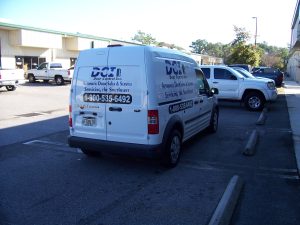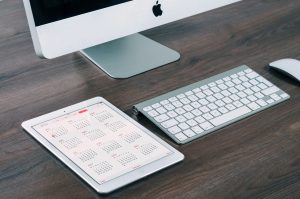 DCI Adopts New GPS Tracking System for Service
Software enhancements boosts proficiency in time tracking
(Jacksonville, FL) October, 2016. Door Control, Inc. (DCI), a leading and innovative automatic door distributor in Florida, has recently implemented a GPS tracking software that minimizes wait time for customers and increases billable time accuracy. The sophisticated smart phone software, which is installed on each of the 20-full-time technician's smart phones, connects directly with DCI Customer Service for real-time tracking of the technician locations in the field. Customer Service can view each of the Technician's location on a 51" flat screen TV mounted on the department's wall. This large-screen, real-time view makes it easy to place incoming service requests into the nearest technician's route.  This allows the service team to arrive at a call within the most efficient time as possible.
DCI took this program a step farther by developing in-house enhancements to the software.  From a technician's perspective, this unique, time-saving, time-sheet software has allowed for a completely paperless process. All data is now collected through their smart phone. They choose the customer's location from a pre-programed drop down menu rather than having to write in the address. The software then verifies the hours worked, reducing time for management approval and payment processing.
From the customer's perspective, these added enhancements improve the exactness of tracking billable time and reducing the turnaround time for sending invoices. President, Mike Bradberry summarizes, "This, along with the field service platform, our custom DoorTrac inventory software & modern utilization of cloud technology –has significantly improved the customer's experience by reducing service time and by making the entire service process more pleasurable and easier.
For more information about name of software application at DCI, please call 800-535-6492.
Door Control, In. Launches New Precise Scheduling Process Based on Customer Feedback
DCI's customer insight leads to more precise scheduling of service visits
(Jacksonville, FL) April 30, 2013. Door Control Inc, (DCI), a leading automatic and manual door distributor in the Florida region, has recently integrated a new scheduling process that decreases the arrival window time to within two hours. The new process was initiated based upon customer feedback. DCI has always encouraged a continuous open line of communication with customers. It was through this communication that DCI redesigned their scheduling process in order to provide more precision and accuracy when scheduling customers for service visits.
There is now a DCI staff member dedicated to taking service calls and scheduling them with field technicians in the most efficient way possible. When a customer requests a service visit, they are given a two hour window for the technician's arrival. The technician then provides frequent updates to the DCI staff on whether their schedule needs adjusted, either moving an appointment earlier or later. No matter the adjustment, the customer is kept updated of any changes as soon as they occur.
There is also another service staff member dedicated to handling any additional resolutions needed from our technicians. "This new process ensures that our customers are always kept informed. In addition, our technicians have the dedicated support they need to provide the very best service to our customers," states Mike Bradberry, President of DCI, Inc. This process is particularly beneficial to hospitals, where maintenance staff must always keep medical staff informed of when a door is going to be serviced. This way, the organization is well informed and can then better prepare and make any adjustments, if necessary.
For more information on how DCI's new scheduling process works, please call 800-535-6492.
Save
Door Control, Inc. Goes All Digital - Increasing Accuracy and Efficiency in Operations
DCI's new system aides in designing a lean inventory and efficient process flow

(Jacksonville, FL) April 30, 2013. Door Control Inc, (DCI), a leading automatic and manual door distributor in the Florida region, is now operating under a completely digital service operations system. The new system, now on an upgraded network, is currently utilized by the main office, service and new installation personnel.
DCI's entire system operates under cloud technology, which centralizes all records and files at the home office with the technicians in the field. These records are always accessible with real-time data on Galaxy Note 2 devices. The new devices, coupled with the network upgrades, provide faster downloads, ample storage and large, sophisticated screens for easier viewing and convenient signature captures.
The way DCI puts the cloud technology to use offers several advantages to customers and technicians, as well as office staff. Technicians have real-time access to the most up-to-date service manuals. "Before, we had to have maintenance books in the truck," Mike Bradberry, President says, "If we updated a page, we had to pass out 50 copies and hope the technicians added it. Now it just automatically uploads." The technology provides a forum for the regionally-based technicians to post notes to their own secure, group message board. This allows them to conduct search queries for quick answers or tips. For service technicians, all pertinent customer information is at their fingertips when arriving at a customer site; where to park, a map of the location, details from prior appointments and any customer-established parameters to note. For new installs, technicians have the entire project, including blueprint drawings and submittals on their devices up to two weeks prior to the project.
In addition to the increase in communications, DCI employs the cloud technology for maintaining a systematic inventory. Technicians can check their truck's inventory on their tablet devices. If an item is not in their truck inventory then the main office can search other DCI service trucks in the near vicinity for their inventory. Finally, if the part is not located, the main office can order the part and have it drop shipped to the customer site. This search can be conducted within minutes, saving the customer on normally extensive wait time.
For more information on how DCI's new digital systems and network improves customer service, please call 800-535-6492.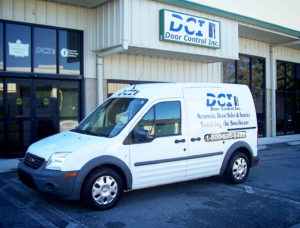 DCI, Inc. Launches New Field Service Platform, Increasing Efficiency While Going Green
New Platform sets higher standard for efficiency and sustainability
(Jacksonville, FL) February 16, 2012. Door Control Inc, (DCI), a leading automatic and manual door distributor in the Florida region, has recently launched an entirely new field service platform that increases efficiency and accuracy while also helping the environment.
The new platform has set a higher standard for the entire industry – both from a technology standpoint as well as promoting sustainability. DCI integrated a multi-faceted approach that included an investment to the warehouse, fleet and customer-facing activities. A bar-code scanning system will provide real-time, accurate access to the DCI extensive automatic door parts inventory. Each technician has this system installed on their Smartphone. Virtual work tickets and signature capture technology eliminates paperwork and ensure procedural correctness every time. Utilizing this electronic inventory system allows DCI headquarters to monitor the inventory on the fleet so each van is fully stocked.
In addition to the new technology, DCI has begun replacing their fleet of 1-ton vans with smaller, more fuel-efficient Ford Transits. The improvements made via the new platform allow DCI to restock parts for service faster, thus carry fewer inventories, enabling the downsizing to smaller vehicles. "We align the organization according to the needs of the customer, not the needs of DCI. Every component of the new service platform will benefit customers in every aspect of service," adds Mike Bradberry, President. All improvements from this investment will be immediately transparent to the customers by ensuring inventory supply, reducing or eliminating paperwork and increasing accuracy in all phases of service.
For more information on the field service platform, call DCI at 800-535-6492.